A free NHS treatment plan using virtual reality (VR) technology has been launched targeting patients who suffer with needle phobia. 
The treatment plan is integrated into a psychological care pathway. It aims to equip people with techniques and strategies to manage Trypanophobia (a fear of needles). Therefore, it is especially important while the COVID-19 vaccination process continues.  
The VR treatment plan has initially been rolled out to residents in the regions of Basildon and Brentwood. As well as Kent and Medway. 
VR Treatment Techniques
Sessions have been designed for remote delivery. They will also be held under the guidance of a qualified therapist. In addition, this therapist will guide the patient through techniques and strategies to manage their fear of having the COVID-19 vaccine.  
The treatment gradually increases patients' exposure to scenarios that they would usually avoid. Such as immersing them into medical procedure-related environments.  
During therapy sessions, a unique experience is created. Patients will experience three-dimensional, computer-generated environments created by Psious. Psious is a VR platform for psychology and mental health. A simulation of a medical waiting room and a real blood draw is created. This helps therapists evaluate and treat patients with distress and anxiety in a safe and controlled environment.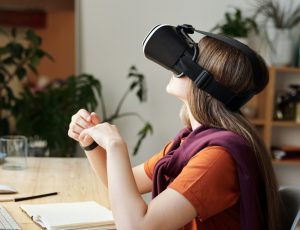 Needle Phobia puts health at risk
Philip Adkins, National IAPT Clinical Lead at Vita Health Group, said: "Up to 10 per cent of people in the UK suffer from needle phobia and it is a fear that could prevent them from taking the COVID-19 vaccine. Phobias can have a hugely negative impact on peoples' lives, but VR technology provides individuals with an opportunity to defeat their crippling fear and is a gateway to living a freer life long term. The treatment plan has been designed to be delivered remotely and is already proving to be a lifeline for patients with needle phobia. The needle phobia treatment plan ensures we can help people conquer their fear without having to leave their home."
Psychological therapy delivered automatically by a VR coach can produce large clinical benefits. Additionally, research has demonstrated VR treatments have the potential to greatly increase treatment provision for mental health disorders. 
Vanessa Dodds, cognitive behavioural therapist (CBT) at Vita Health Group, said: "VR is very effective at bridging the gap between real-life exposure and what the patient feels able to do at the time they enter treatment. It has been particularly useful for needle phobia because the process of preparing for and giving an injection is not something that can be replicated in a therapy room. Administering a COVID-19 booster and then annual vaccinations are probable, according to Britain's vaccine deployment minister. Managing procedural distress with VR treatment can also provide long-term benefits by increasing compliance, thus reducing the likelihood of avoidance in the future".  
Residents of Kent and Medway and Basildon and Brentwood can self-refer by calling 01268 977 171. A free pair of VR goggles will be provided to those enrolled onto the treatment.