To say we have seen extraordinary change in the workplace in recent years still feels like an understatement. It is a change so big that it has shifted the priorities for employers, and the expectations of employees, forever. No less than on the topic of workplace wellbeing.
Organisations have learned a lot from nearly two years of working in remote and hybrid ways. The time has forced many to think about, and appreciate, the differences amongst their employees; some have flourished from their at-home office, whilst others have floundered from the lack of routine and felt isolated. If one thing has become clear though, it is that we are all different and we are all human. And as humans, we all cope in different ways.
How Have Safe Spaces Evolved in the Hybrid Working World?
Whilst some may feel they can be completely open and emotionally vulnerable in the four walls of their workplace; the reality is that many cannot. The thing is, intense conversations are often sandwiched between meetings, leaving the individual no time to reflect on or gather their thoughts. As a result, emotion that arises from sharing traumatic or difficult experiences may need to be quickly subdued in the office toilet; and anger over decisions that feel unfair or unjust is often expected to be hidden under a cloak of composure.
Remote working has given a space for many people to come forward, confide and share in ways they would not in the physical workplace. When people have, understandably, struggled over the past two years, some people have found that being wrapped in the comfort blanket of familiar surroundings incredibly helpful. Homes, coffee shops and local parks often act as personal safe spaces and now they have become professional ones too. For the first time, the choice of where and how to have challenging conversations has been in the hands of the employee. It has enabled many to bring their authentic and whole selves to work.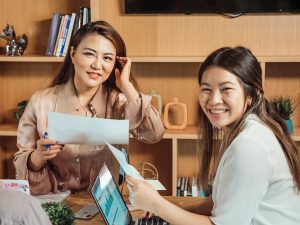 It is Your Duty of Care to Create A Safe Space for All Employees.
It has always been important for workplaces to create psychologically safe spaces – spaces where individuals can bring their whole selves, where they feel valued, and where difficult conversations can take place without fear of judgement. Safe spaces are crucial for the wellness of all employees, but particularly those in minority groups, those who are challenged with mental or physical health and those that endure harassment or bullying. And in fact, anyone – no matter who they are or how invincible they feel – may need to solace and comfort of a safe space. Afterall, when things get tough and life throws you a stinker, it can be impossible to keep the wall between personal life and work life, standing.
The reality is, there are limitations in having a one-size-fits-all approach to safe spaces.
Choice Can Empower Employees to Share.
In this new, hybrid world, there is no playbook that outlines how, exactly to create the perfect safe space. But what businesses do have at their disposal are learnings from an unprecedented two years, and a huge opportunity to re-think how they create healthier workplaces for their employees.
If Covid-19 has taught the working world anything, it is that giving employees a choice can be empowering and, in turn, increase productivity. Those employers who have given their employees the choice to decide where, when and how they work, have undoubtedly helped build trust. And trust between two individuals is key to building not only a happier workplace, but also a truly safe space.
I urge managers to focus on giving employees more choice in where, when and how they have difficult conversations. Afterall, if you are asking an individual to open up about a tough experience, or if you are delivering bad news, it is them that will feel most weight from the conversation. In 2022, safe spaces will not only look different, but you also have the unique opportunity to make them look better too.
Seven Questions to Ask Yourself About Your Safe Space Strategy.
You need more than just four walls in your office to create a safe space for your employees in 2022. Ask yourself these seven questions and you will be on your way to creating a space that people feel truly safe to share in.
1. Do you have safe zones in your workplace? For example, do you have a space in your office that workers can use as quiet zone or as a space for timeout, like a kitchen, a print room or a reception? Whilst some people may want a formal area – a space dedicated for timeout – others may simply be looking for somewhere familiar or out of sight to 'zone out'. Interestingly, there is a great deal that managers can learn from the 'safe' zones which are so critical to the wellbeing of children in our schools, perhaps we could look to replicate these spaces in our workplaces too?
2. Are you transparent about the conversation you are setting out to have? Transparency is key to building trust between two parties. As a manager, it is important to be upfront about not only the nature of the conversation you want to have, but also how you handle the information you are given. For example, if an employee shares that they feel suicidal, you will need to be transparent about your responsibility to escalate this further. Ultimately, it is for their (and your) safety. Where possible, give the individual a heads-up and remove the element of surprise. You could say, for example, "this is going to be a difficult conversation", or, "…this will be a meeting to discuss the structural changes that are happening".
3. Do you give the individual the choice of where to meet? Instead of dictating the place you want the one-to-one to take place, give the individual the choice or options. For example, you could offer to have the session on neutral ground in a coffee shop, at a co-working space, one the phone, or via video call. Always consider safeguarding measures and do not go into their house. Your welfare and safety as a line manager is important.
4. Do you consider the time of day? Think about when you plan to have the session or conversation with an individual or group. If you think it will trigger emotion or trauma, for example, perhaps arrange your meeting for the end of the day so that person doesn't have to go back into the workplace and hide their true self.
5. Is the person's diary clear before and after your session? It is not fair to expect someone to bounce from a tricky conversation and a position of vulnerability into a meeting or deadline. Ensure they have quiet time available before and after a session to be mindful and process thoughts.
6. Are your boundaries clear? Set boundaries and be transparent with the individual about the duty of care you have as their line manager. You have a responsibility to escalate concerns and information to protect the welfare of the individual and keep yourself safe. Remind the individual that this is a professional relationship, and you are not able to provide 24/7 support. Signpost them to support services that can offer this.
7. Do you protect yourself? It is important to recognise that you may feel the weight of these difficult conversations, too. As such, ensure you have support mechanisms in place and feel equipped to handle challenging conversations, particularly around mental health. Consider a CPD accredited course that helps you recognise and positively respond to the signs and symptoms of mental health conditions, like Mental Health Advocacy. It will help you effectively guide your colleagues towards the right support and is one of the first courses to offer an ongoing and dedicated helpline to delegates like you.