Concerned about your mobility, strength, balance, blood pressure or heart rate?
Vita Health Group have an exciting new service coming to our Crystal Palace clinic!
A bespoke 60-minute assessment of strength, flexibility, balance and overall general function. This is not an assessment of symptoms or pain with the goal to diagnose. Instead, it includes testing to demonstrate opportunities for improved function in individuals and injury prevention. The Body MOT aims to help support individuals with their goals, whether that may be to run a marathon, improve general fitness and/or strength or just to help make activities of daily living that little bit easier.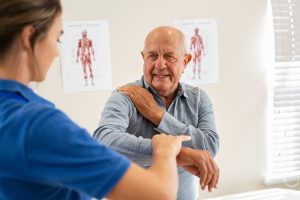 It is time to make health a priority and be confident in what your body can do!
Testing can include:
Blood pressure & heart rate
Functional Movement Screening (testing movement patterns requiring mobility, stability and strength)
Strength Testing
Range of Motion Testing
Balance Testing
Running/Gait Analysis (on request)
BMI (on request)
We will provide a comprehensive report including your assessment findings and an analysis of these results. We will discuss these with you and give you realistic advice, recommendations, and a bespoke exercise programme on how to address any areas requiring attention.
15% INTRODUCTORY OFFER FOR 1 MONTH ONLY  (offer ends on 19th October)
Click here to book