Vita Health Group is delighted to announce that it has won the prestigious Best Covid-19 response in healthcare award at a ceremony held at the Oval, London.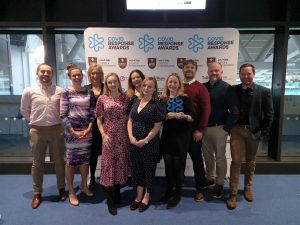 The awards salute and pay tribute to the resilience, resourcefulness and tenacity that have been the hallmark of corporate and non-commercial organisations response to the Covid-19 pandemic.
Despite some tough competition, Vita has been recognised for its rapid and innovative reaction to the pandemic with comments from judges that included "An impressive bundle of initiatives. I especially like the concept of the needle stick phobia VR". These initiatives included:
Rapid transition of our mental and physical healthcare service-users to remote care delivery, and our workforce to remote working, supported through additional investment in IT provision.
Successfully mobilised four primary care mental health services during national lockdown.
Launched a new orthopaedic pathway, online classes to support physical and mental wellbeing and virtual home workstation assessments.
Introduced a digital triage chatbot to enhance accessibility to primary care mental health services during a time of increased demand due to furlough, bereavement, job losses and social isolation

A new virtual reality technology as a therapy-aid to support treatment of service-users with anxiety-related needle-stick phobia,
A raft of staff health and wellbeing initiatives to support our workforce through the pandemic and beyond, including launching an electronic Wellbeing Hub, Staff Diversity Networks to drive change, remote social opportunities, and access to online classes and wellbeing modules.
Derrick Farrell, Vita Health Group's CEO comments "Making People Better is always our first objective and we are delighted to receive recognition for the innovative way our teams adapted to the pandemic, ensuring continuity of care for our service users. Really pleased to receive this award"