Vita Health Group linked up with Specialist Education Services (SES) to support their annual charity fundraising football match.
Specialist Education Services is an organisation providing highly specialised integrated therapeutic residential care and education for young people from Norfolk, Suffolk, wider East Anglia and the UK.
SES have successfully worked with vulnerable and traumatised Looked After Children with associated mental health issues, self-harming and sexualised behaviours, some of whom have come as a 'step down' from secure settings.  Children invariably display social, emotional and behavioural difficulties, have complex health needs, have a history of insecure attachments and repeated placement breakdowns due to their challenging behaviour.
Annually SES hold a charity football match; this year it was on the 19th July at the local Beccles FC. It had an amazing turn out, that consisted of the current SES community, as well as welcoming back young people who have previously lived with SES and adults who have moved on. The match was played in very good spirits, finishing 7-4.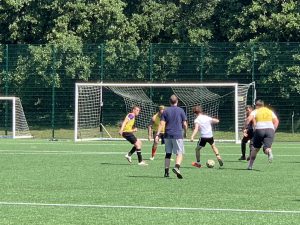 Andy Ralls comments:
"The event was a great success with £1100 raised for Leeway, a Norfolk based charity that supports victims of domestic abuse. We had a significant financial donation to our event this year from Vita Health Group which both SES and Leeway charity are extremely grateful for. Due to everyone who helped us we were able to double what we have raised at previous football charity events and Vita Health Group's generosity helped make this possible".