Vita Health Group have signed up to the 'Employer with Heart' charter by amending maternity and paternity leave policies to entitle parents to extra paid leave after a premature birth and committing to support parents when they return to work following a premature birth.

The Employer with Heart charter, was launched in February 2018 to encourage employers to extend paid leave for employees whose babies are born premature. Vita Health Group joins the growing diverse group of companies supporting staff in this way and join the 'Employer with Heart' Hall of Fame.
Tia, a Vita Health Group employee commented "As a parent to a premature baby girl I was overjoyed when I was informed that my employer Vita Health Group signed up to the 'Employer with Heart' charter. To know that my employer recognises the impact of having a baby prematurely is so valuable. It is an extremely stressful and worrying time. To have the support of your employer will help alleviate some of that stress and worry."
Pictured below is Tia's daughter Amalie receiving Photo Therapy, a common treatment for premature babies with jaundice.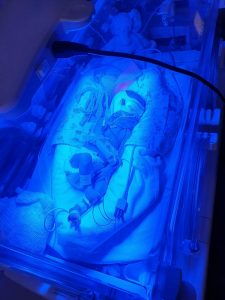 Caroline Farren Hines, HR Director said: "Here at Vita we want to ensure that our employees have the space and support to be able to focus on their new baby and all that a premature arrival entails. This is why we made the decision to sign The Smallest Things 'Employer With Heart' Charter. It was a Vita employee who first bought the charter to our attention, and we are so glad that they did! It just goes to show that our underlying belief of engaging with employees and listening to them, really is the right thing to do for everyone."
Catriona Ogily, founder of The Smallest Things said: "We are thrilled that Vita Health Group has signed up to our Employer with Heart charter. Caring for a premature baby on a neonatal unit, often for many stressful weeks and sometimes months, should not be counted as maternity or paternity leave. Thanks to Tia at Vita Health Group advocating for parents of premature babies based on her own experience, their employees will not need to worry about work or money if they have a premature baby of their own."
For more inforation on the Charity and the work that it does please visit https://www.thesmallestthings.org/