As more and more people are working from home, it is important to ensure that you use the right tools to help prevent musculoskeletal pain and discomfort from more sedentary behaviour.
Use the diagram below to help you get started with setting up your home workspace!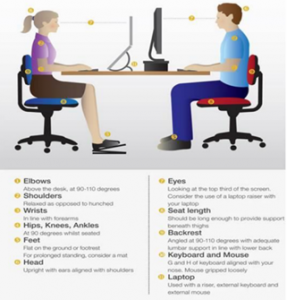 Top tips for working from home:
· Optimum Environment
· Make sure your computer is at eye level – use a laptop raiser or even some books if needed!
· Use a comfortable chair that provides support for your low back and arm rests – you can even use a cushion for comfort
· Workplace Behaviours
· Take 'microbreaks' throughout the day of 1-2 minutes every 45 minutes to get up and stretch or move around
· Set an alert on your calendar to remind you to move
· Physical and Mental Wellbeing
· Stay hydrated throughout the day
· Make sure you try to get some fresh air every day- even a 15 minute walk is beneficial!
Try these simple stretches that you can do at your desk!