Although the kids are pumped for six-weeks out of school, we appreciate that as parents and carers you may feel quite the opposite. It's no secret how difficult it can be to juggle childcare with work commitments.
We don't have a magic wand to make the last few weeks of the school holidays completely effortless and stress-free. But we do have experts on hand with helpful advice to make the next few weeks feel a little more manageable.
Feeling stressed about summer? You're not alone.
1/3 of parents say the school holidays leave them feeling stressed
47% of parents worry about thinking of things to do with children.
1/4 of parents say they feel exhausted
52% of parents say the cost of taking children out for activities causes them the most stress during the holidays.
Six ways to help parents and carers manage summer holiday stress
1. Be kind to yourself
As parents or carers, we have the tendency to put the needs of our family ahead of our own wellbeing, particularly in the summer holidays.
However, it's important to know that putting time aside for yourself isn't selfish. In reality, it'll give you the space you need to recharge your own batteries which will, in turn, enable you to be more present with your own children.
Give yourself ten minutes in the day to enjoy a cup of tea or a refreshing drink in the garden, or go for a short walk at the end of the day as the sun is setting.
2. Be aware of your thoughts
Sometimes we're much harder on ourselves in our own thoughts than we would be to anyone else we speak to.
You may find negative or self-berating thoughts run through your mind, such as "I'm awful for not spending time with my kids today" or "My kids are bored because I haven't organised enough for them". First, imagine a friend is sharing these feelings with you. Second, question how you would respond to them. It's likely you'd comfort your friend and give them support and reassurance. Now, try to respond to your negative or self-critical thoughts in this kinder way, giving yourself the same positive encouragement you would give to a friend.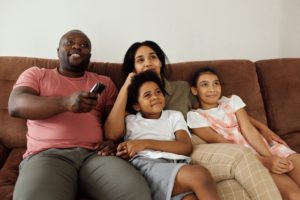 3. Manage expectations
In reality, similar to all of us, kids generally enjoy the simple things in life. Get organised and write down a list of cost-effective and simple activities that feel manageable for you. Your list could include spending time with family and friends at the park, or activities like face painting, using straws and washing up liquid to create bubbles, or water fights with plastic cups. If you have older children, you could put an hour aside to make pizzas one afternoon, or, set up your own cinema room by pulling the curtains, making some popcorn and watching a film.
4. Practice mindfulness together
Mindfulness is a great way to calm and centre the body, and it's easier to integrate into family life than you might think. Children are great imitators and will likely take your lead, even on small things like kicking off your shoes and feeling the grass under your feet.
Try simple mindfulness exercises together – lie on your back, look up at the sky and see what shape clouds you can spot, make daisy chains, look for bugs and insects, pot some plants, or take colouring pencils to the park and use nature as your inspiration.
5. Ask for help
The adage "it takes a village to raise a child" is still true today. Remember that it's OK to ask for support from family and friends and using the additional clubs and activities on offer for children in the summer holidays in no way makes you a lazy parent. It's important to weave in child-free time for yourself during the holidays.
6. Recognise the importance of social self care
It's really important to weave 'adult time' into your day-to-day life. This can be tricky if you don't have access to childcare or live close to family members who might be able to offer this support. If this sounds like the situation you're in, you could arrange a picnic or play-date in the local park with other parents from school so you have the opportunity to catch up with other adults. If you're struggling to find 'adult time' it's likely other parents at school are, too.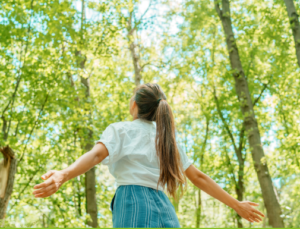 Did you know?
It's okay for children to 'be bored' now and then. In fact, independent play time or uninterrupted time alone helps a child to build problem-solving skills and teaches independence. You may find this is when your child becomes most creative and inventive. Remember – you don't have to fill every minute of the day with something fun and exciting.
Try this today
If you have a child (or children) who is more anxious in social settings, it can help to build a familiar network of parents or carers and their children, and organise weekly or bi-weekly catch-ups together. Keeping a routine of activity and ensuring the people you spend time with are familiar helps to create a balance where you are able to address your child's needs and yours.