National Conversation Week is all about the simple, and rewarding art of simply talking to each other, checking how your nearest and dearest are feeling.
We're very much a society that's "always on" and, unfortunately, the art of human conversation is becoming lost in a sea of emojis, swiping right (ask your single friends), chatbots, and dwindling attention spans.
Whether it's keeping in touch with friends, updating a colleague at work, or trying to find the best insurance deal, most of us are guilty of hiding behind a screen to send a quick text, fire off an email, post a social media message or search online rather than taking the take the time to speak with somebody. That's why we're encouraging everyone in the UK to spend the week trying a little bit harder to engage with those around them be they a friend, family member, colleague, or customer. We're not asking you to throw away your phone and we're not trying to send the UK back to the 90s, we simply want everyone to talk more. Check how people are feeling, if they have any problems they would like to talk about.
It's important that conversations happen at times and in places that feel natural. Sometimes it's easier to talk about our feelings when we are doing something else – driving in the car, jogging around the park, or eating breakfast. The more typical the setting, the less unusual and uncomfortable the conversation can feel.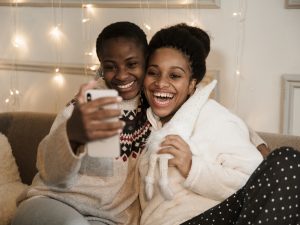 There is no one correct way to talk about how someone feels, but these tips will guide you to make sure you're approaching it in a helpful way:
1. Ask questions and listen
Asking questions can give the person space to express how they're feeling and what they're going through, and it will help you to understand their experience better. Try to ask open questions such as "how does that affect you" or "what does it feel like?" – rather than leading or judgmental ones.
2. Think about the time and place
Sometimes it's easier to talk side by side rather than face to face. So, if you do talk in person, you might want to chat while you are doing something else. You could start a conversation when you're walking, cooking or stuck in traffic. However, don't let the search for the perfect place put you off.
3. Don't try to fix it
It can be hard to see someone you care about having a difficult time, but try to resist the urge to offer quick fixes. Learning to manage or recover from a mental health problem can be a long journey, and they've likely already considered lots of different tools and strategies. Just talking can be really powerful, so unless they've asked for advice directly, it might be best just to listen.
4. Treat them the same
When someone has a mental health problem, they're still the same person as they were before. And that means when a friend or loved one opens up about mental health, they don't want to be treated any differently. If you want to support them, keep it simple. Do the things you'd normally do.
5. Be patient
No matter how hard you try, some people might not be ready to talk about what they're going through. That's OK – the fact that you've tried to talk to them about it may make it easier for them to open up another time. And there are lots of things you can do to support them, even if you're not talking:
6. Doing things together
Sending a text to let them know you're thinking of them.
Offering to help with day-to-day tasks
If you need help to support your workforce or need assistance from our NHS services then please contact us below.