In short, men are less likely to access mental health support and generally tend to ask for help far later than women. This is a worry.
This partly stems from how we treat boys at an early age. For instance, boys are often taught to internalise their issues and aren't schooled in being open about their emotions. Men are often told to, 'man up' or made to feel weak because they are causing a fuss.
We need to do all we can to help men and boys open up about their mental health, here's how to help them do so in just a few simple ways:
Find the time to talk: Whether it's sitting down in the pub or even next to each other on a long journey, find time to truly talk to one another. It's fine to do activities with your male friends, but make sure you find the time to talk too.
Question 'fine': We've all done it; we say we're fine when we're not. To really find out, ask twice and don't take 'fine' as your final answer.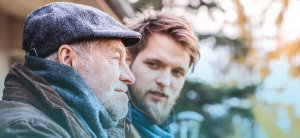 Read between the lines: We don't always say exactly how we are feeling, so often you will need to read between the lines when speaking to men about their mental health. For instance, 31% are more likely to say they are stressed and 30% that they are not feeling themselves. Whilst 35% of men said if they wanted to talk to a friend about their mental health, they would ask how their friend is doing and hope that friend would reciprocate the question.
Know when to end the banter: It's easy to misread a situation especially when everyone is throwing the banter around. But know how to spot when someone's not in the mood or when they want to talk about something serious. If you notice something is different about your friend, or your jokes aren't going down so well, ask them how they are doing and then ask again.
Avoid toxic language: Be clear that 'grow up', 'man up,' 'get a grip' or 'grow a pair' are incredibly unhelpful phrases and can be ever so damaging. Avoid them at all costs.
Support them: All your friend, colleague or family members wants to hear is that you're there for them and your feelings towards them will not change if they open up. You don't have to try and give advice; they just need to know they are being listened to.