As part of Vita's development and wellbeing programme, the corporate mental health team enjoyed team building activities with Laughtercise, a company that specialise is energising team events.
The purpose of the day was to provide all members of the service – therapists, seniors, administrators – with a day out of their normal schedule to provide an opportunity to build relationships, update clinical knowledge and set out plans for patient care.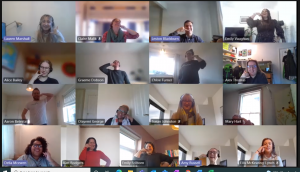 Laughtercise sessions are all about interactive and social games and brain exercises that are so fun (and challenging) that they naturally produce smiles and giggles. In the sessions, the teams did some Laughtercise 'Brain Buzzes'. These are uniquely created games that challenge everyone mentally and physically. The teams loved the games and enjoyed seeing everyone make a few mistakes!
Cathy Smith, Psychological Treatment services lead comment: "It was a great session and really gave the team a boost. Working remotely is often challenging so with the help of Laughtercise, we enjoyed some fun and chucles throughout the day". 
Feedback included: "I thought Laughtercise was fantastic", "I found it really enjoyable and would do it again" and "It was brilliant, highly recommend"
Are you a clever sausage or a dull doughnut? Give this warm-up 'brain buzz' a go here: