The holiday season is nearly upon us, the expense of buying gifts for the whole family, the pressure of last minute shopping, getting the big meal prepared on time, the fear of managing family dynamics and indeed the heightened expectations about making the day a happy one for everyone, can cause even the calmest person to have sleepless nights.
And this Christmas again we have the additional stress of planning around the COVID-19 pandemic. You might be alone on Christmas for different reasons, such as the death of a loved one, living far from relatives, or because of isolating. Whilst we can't totally take away the stressors, we do have a selection of tactics to help cope with the heighted stress. Read on to see our top ten tips:
Mindful empathy
Even though it can often seem that you or your family are the only ones finding the festive period stressful, it can sometimes help to remember that you are not alone in your anxieties. This year again maybe challenging due to the pandemic and the many emotional challenges this will bring to people. Know that many others are in the same position.
Make lists
Where possible make lists of all the things you have to do and when they need to be done by. Not only can this help to de-clutter your mind, it can also ensure you spread the cost and burden over a period of a few weeks. Try to avoid leaving things to the last minute. Not only will this stress you out, but you are likely to end up having extra cost pressures too doing everything at the same time.
Delegate
Don't try to take on the whole weight on your shoulders alone. Instead, ask people in advance for their help. Set specific people tasks, such as what they might cook, what decorations they are in charge of and what games might be played. Actually, getting everyone involved can really make the whole process a lot more inclusive and can ensure the preparations actually feel fun for everyone.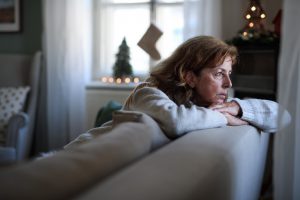 Connect
Try to connect with others as much as possible. Even if this has to be done virtually, the key is to resolve any family issues before everyone gets together. It may take some planning, but it can help to make the day more bearable if you often experience family feuds on the day.
Coping strategies
If you are unable to resolve any family issues, plan in advance what your coping strategies for dealing with Christmas will be. For instance, you may wish to practice some deep breathing, or visualise a calm relaxing atmosphere. Where possible get a plan in place to ensure you can all get outside in the fresh air on the day. Just getting out of the house can often be key to relieving any built-up tension.
A new outlook
The days between Christmas and New Year can be notoriously tricky for families, once the hype of the big day is over. As such plan ahead now to ensure you can make the most of this time. Finding a way to appreciate those  couple of days will help you manage your relationship with the period. Remember those days aren't to blame, more the way we look at them.
Don't blow the budget
Try to remember that it's the thought that counts when it comes to gifts and not the cost. If money is tight, consider being more creative with your gifting. There are lots of websites that offer suggestions for creative gifts, such as baking biscuits, making jams or or other edible gifts. If the pandemic has done nothing else, it has definitely offered us more  opportunities to try new creative things at home. Try not to put too much pressure on yourself and you may just enjoy the creativity.
Be kind to yourself
Accept that it's ok to feel anxious or low. Try to be self-compassionate and allow yourself the room to experience these feelings. It is often easier to deal with it, if you recognise it and accept it. Practice mindfulness, try an app, or perhaps even ask for a mindfulness book. Use the time indoors to learn a new skill to positively affect your emotional health. You may be surprised at what you can achieve.
Change your traditions
If you have recently suffered a bereavement or have previously lost someone over the festive period, try your best to do something different to what you did previously. Changing traditions or doing something in a new way may not take the emotions away, however it can help you to see the Christmas period in a different light.
Seek help
If you do have any fears around Christmas or indeed the current pandemic situation impacting your stress levels, quality of life or your ability to carry out day to day activities the key is to ask for help. Seeking help and talking about how you are feeling is a positive step to managing your mental health.
Certainly, we are all facing some uncertain times, but for those struggling with stress, we want to highlight that there is support available. For those who feel that they need that extra layer of support, we would encourage them to reach out to their family, friends or your GP/other available support. This is a positive step to managing your mental health.
For mental health support: https://www.nhs.uk/oneyou/
Access support alongside your GP if you are struggling using NHS 111 or click on https://www.nhs.uk/oneyou/every-mind-matters/urgent-support/
If you or someone you know is struggling with high stress, depression or suicidal thoughts, please call the Samaritans on 116 123. They are available 24 hours a day, 7 days a week www.samaritans.org or text SHOUT to 85258 in the UK to text with a trained crisis volunteer.