It's meant to be the 'most wonderful time of the year'. But many people find it to be anything but. This year the financial stress of the festive holidays will feel heavier than usual. Soaring inflation and rising bills have already left households feeling the pinch. In fact, a staggering 91% of adults have reported an increase in their living costs compared with a year ago.
As we count down to December 25th, many people will be feeling the pressure of delivering a magical time when money is tight. But it can be overwhelming to create a picture perfect holiday filled with lavish gifts, food and happy family celebrations. Sadly, 41% of Brits have said they are worried a lack of funds would crush their seasonal plans this year.
How financial stress could impact your enjoyment. Pressure to spend for those dealing with financial concerns, unemployment or financial debt can lead to conditions and symptoms, such as:
Sleep loss Headaches and migraines
Anxiety
Depression
High blood pressure
Muscle tension
Gastrointestinal problems
Weight loss or gain
Withdrawal from loved ones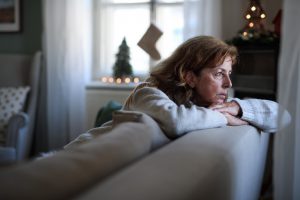 Draw up a strict budget for the festive season spending: When you have children and loved ones you want to spoil, it can be really tricky to budget. To ease anxiety about not having enough and spending enough, set a realistic budget before you start shopping for presents and food. Be honest with yourself about what you can spare.
Set the expectation of the festive holidays with family and friends ahead of time; Be open with the people you spend the festive season with and set an expectation for the day. You could make an agreement with adult family members that you will not give presents to each other this year and will instead enjoy experiences and spending time together. Doing this will lift anxiety around spending on others and will help reduce the pressure to create a perfect day. In reality, no one is perfect.
Take a break from social media: Instead of focussing on endless social feeds about everyone else's seemingly perfect time, cherish your own in real life. Social media will likely give you nothing more than a constant feed of staged and filtered photos of people in lavish settings having an amazing time. Know that these photos rarely represent peoples' reality. Comparing your own situation to others can lead to feelings of unworthiness and sadness and may make you feel you need to spend more.
Delegate tasks and responsibilities: Know that the perfect day is not solely on your shoulders. Share the load with those who you'll be spending time with. Divide up the festive dinner and ask each person to bring something different. Delegating the tasks will help you relieve some of the pressure of responsibility, and the bank balance.
Don't wait to get help: It can be all too easy to bury our heads in the sand, especially when we get caught up in the whirl and excitement of the festive season. Whether you're concerned about spending, worried about debt, or feel money worries are spiralling out of control, do not put off seeking help from financial or mental health experts.
Try this today. Focus on the experience of time with family and friends , not material things.
During the festive season, we can become so caught up in the material things that we forget what the time is meant for. It's OK to give presents and indulge in yourself and others if you are able to. But if you are particularly concerned about your finances this year, focus on the experiences you can create, not the things you can buy. Throw a movie night at home and settle down with home-made popcorn to watch movies with the kids, invite friends over for a night of festive baking, or bring your nearest and dearest together to lend a hand at a soup kitchen or food bank.
And finally, the one thing we ask you to do today if you do nothing else…
Practice acceptance. With the cost of living crisis dictating many of our daily choices and decisions, there are so many situations and scenarios that we don't have control over. It can be unnerving when we realise this, particularly as it's the design of our brain to problem solve and fix. In moments like this – when we have very little control or choice – radical acceptance can be a transformative skill to utilise.
Radical acceptance is simply the acknowledgement of reality as it is – not as we wish it were nor as we think it should be – but as it is in the present moment with all of its flaws. Refusing to accept reality can keep you stuck in unhappiness, bitterness, anger, sadness, shame or other painful emotions.