October 1st 2021 marks the start of Black History Month; a month widely regarded as one of the most prominent cultural celebrations of the year. And 2021's Black History Month is set to be more important than ever. Not only is it a month to celebrate the continued achievements and contributions of Black people in the UK and around the world, it's also a time for continued action to tackle racism, reclaim Black history, and ensure Black history is represented and celebrated all year round.
This year, inspired by Black Lives Matter, Black History Month UK 2021 will be launching an inspiring campaign called 'Proud To Be'. This campaign will encourage Black and Brown people everywhere to share what they are proud to be.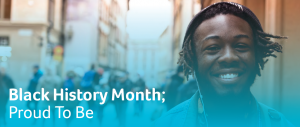 Black history is being made every day, in all kinds of ways, and we all have our part to play in ensuring these stories are seen, told and celebrated.
Workplace matters; race, diversity and inclusion
One of the biggest challenges organisations face today is creating diverse and inclusive environments. Diversity and inclusion are two interconnected concepts, yet they are far from interchangeable.
Diversity is about representation of the entity, or how it is made up. Whilst inclusion tends to focus on how well the contributions, presence and perspectives of different groups of people are valued and integrated into that environment. In this way, an environment where many different genders, races, nationalities, and sexual orientations and identities are merely present, but only the perspectives of certain groups are valued, may be diverse, but it is far from inclusive.
Rather a diverse and inclusive workplace is one that makes everyone, no matter who they are or what they do for the business, feel equally heard, involved, and supported.
One way to do this is through support and by becoming an ally to minority groups.
Five ways to promote anti-racism and support inclusion in the workplace
George Floyd's murder on May 25th 2020 and indeed the Black Lives Matter Movement, have driven a renewed sense of urgency around the issue of racial equity and highlighted the importance of active anti-racism work and promoting a culture of inclusion in the workplace.
By addressing racism head-on in the workplace, we can all become pivotal figures in decreasing the number of people suffering from racial injustices. Here are five ways you can demonstrate anti-racism and support a culture of inclusion in the workplace:
Listen.
"Nothing with us without us". This is the time, if you're not already, to seek out and listen to the voices
of people who experience racism who are bravely and generously sharing their stories. Practice deep listening; really hear what is being said, notice and sit with the feelings it engenders within you, challenge any instincts to refute or dismiss. There are countless brilliant books, podcasts, activists and documentaries already out there with a host of information from people for whom racism is a reality that has to be faced every day.
Educate yourself.
We are all learning all the time; and that's OK. Take this time to consider where there are gaps in your knowledge and try to fill them. Do you understand what people mean when they say, "White privilege?" Are you aware of your unconscious biases? How much do you know about Britain's colonial past and the impacts this involvement still has today? Use this as an opportunity to learn more and build on your awareness of important issues. Books like How To Be an Antiracist by Ibram X. Kendi Inglorious, Empire: What The British Did To India by Shashi Tharoor, and What White People Can Do Next: From Allyship to Coalition by Emma Dabiri, are a great place to start.
Talk about it.
Don't be afraid to talk about race. It is essential to have conversations with friends, family and colleagues even if these feel uncomfortable or you are unsure about what terminology to use.
Call it out.
If you see instances of racism or prejudice, call it out. Staying silent of brushing it under the carpet is simply not acceptable.
Check In.
Racism is an exhausting, traumatising and ongoing ordeal for people who experience it. Check-in with your friends, family members and colleagues during this time. Be considerate of their feelings and ask if there are any ways you can support them.